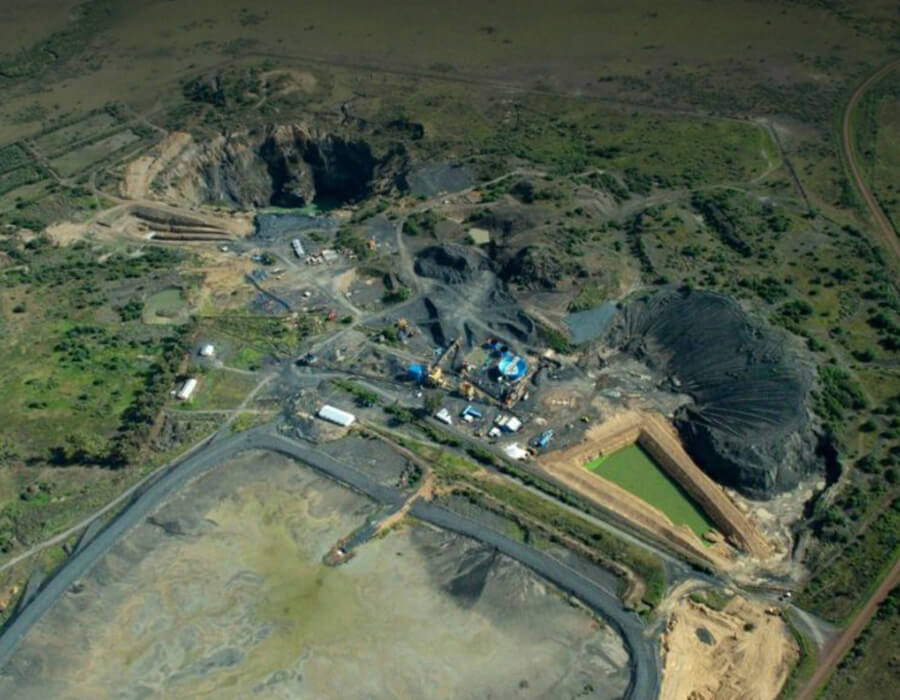 Lace
OVERVIEW
This historic mine discovered by De Beers in 1896 was eventually sold in the late 1990's after changing ownership several times in the early 1900's. The diamondiferous kimberlite pipe located near the town of Kroonstad in South Africa, about 200kms from Johannesburg. Development for this underground mine began in January 2013 and is expected to have a life of mine of 25 years.
HISTORICAL EXPLORATION AND MINING
Discovered in 1896, open-pit methods were initially used to mine this kimberlite pipe from 1901 until 1931. Only being mined intermittently during that time period and changing hands several times, the mineralisation of this diamondiferous kimberlite pipe was eventually built to a depth of about 240m. Initially open pit to 100 metres, an underground chamber was built with vertical shaft to extract the gems at the 240 metre level. The mine become obsolete in the 1930's during the Great Depression and was eventually sold back to De Beers.
During this period of mining, around 4.5 million tons (Mt) of kimberlite rock were extracted, producing about 750,000ct of diamonds at an average grade of 16 carats per hundred tons (cpht). Historically, Lace Diamond Mine was known for recovering Fancy Pink and Purple diamonds alongside its high quality diamonds. The mine has also produced some large stones in the past. Aside from the 4 largest stones recovered to date; (122ct, 72ct, 53ct and 47ct) significant stones have also been recovered from the dumps (35ct, 18ct and 15ct) giving the mine great potential to recover more larger and higher value diamonds over its life span.
Upon acquiring the mine in 1939, De Beers kept this asset in South Africa with a plan to mine it one day in the future. A change in the Mining Policies Law in South Africa in 2005, meant that De Beers had to release this asset which was then bought by DiamondCorp took it over in 2006 and by 2008, the Lace pit and shaft were dewatered for development. By 2009 the 220tph diamond recovery plant was commissioned and tailings retreatment commenced.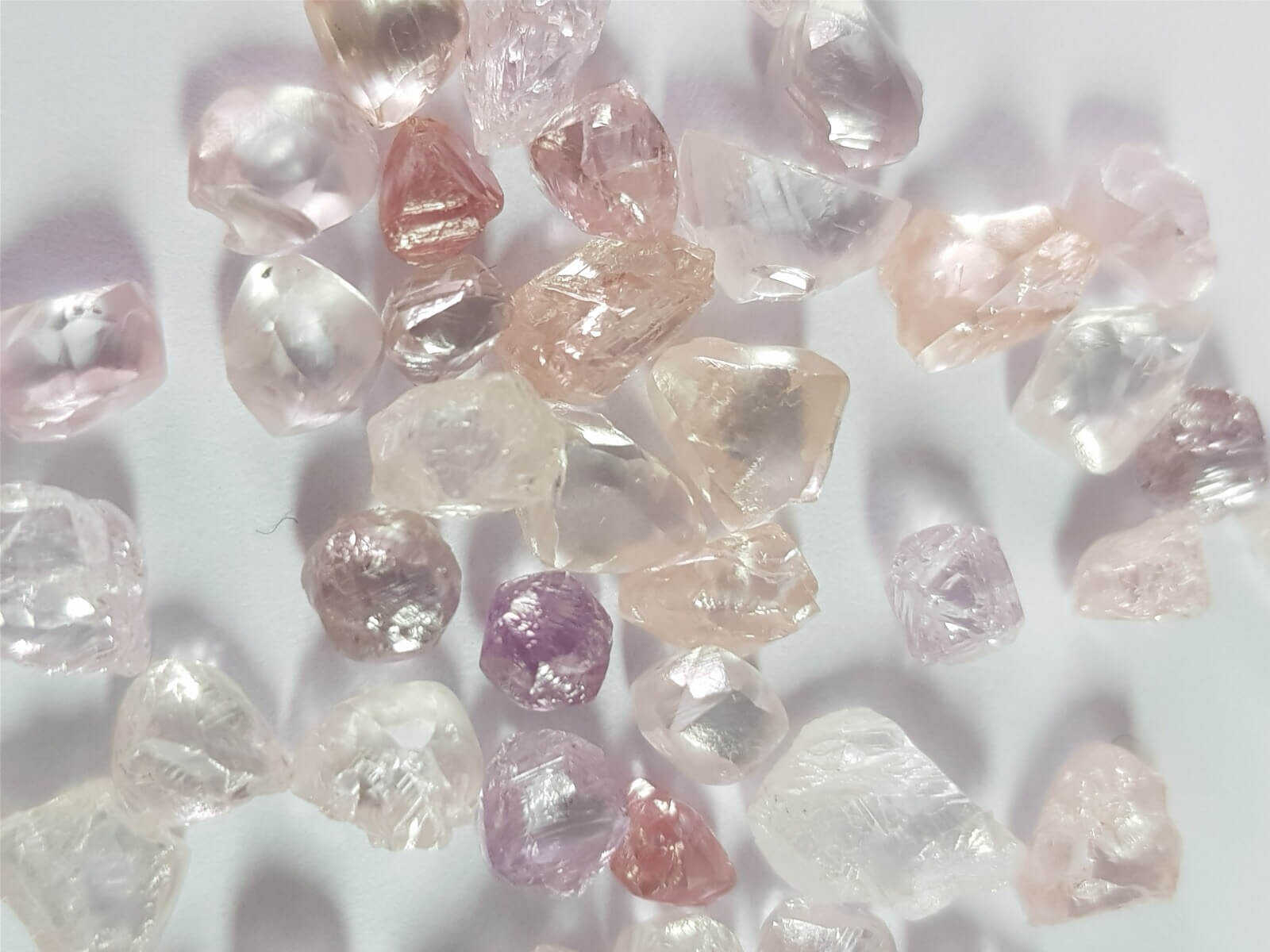 GEOLOGY AND MINERAL RESOURCES
The Lace Diamond Mine lies about 200 kilometres South West of Johannesburg, close to the town of Kroonstad in the Freestate Province of South Africa. It is located within the Central Archean Kaapvaal craton and forms part of several known smaller kimberlite pipes and dykes in the area. It has two types of kimberlite mineralisation, the upper volcanoclastic kimberlite (VK) and the deeper coherent kimberlite facies (CK). The grades for these two areas differ significantly with the VK having a grade close to 25cpht (indicated and inferred) whist the CK has a higher grade of almost 57cpht (inferred).
In October 2011, sampling tests of CK part of the kimberlite at a depth of 240m confirmed the mine's feasibility for development. The mineral resources have been identified along the kimberlite pipe up to depths of 855m.
In March 2016, the resource estimates for the mine were updated. The total resource estimate of Lace Mine stands at 38.49Mt grading at 24.4cpht for 9.38Mct (million carats) within depths of 920 metres. The Upper K4 and K6 mine block of the project was estimated to hold total probable reserves of 2.21Mt, grading at 26.6cpht, for 0.587Mct (million carats) of diamonds. In addition to the above, there is another 3.9Mt of tailings.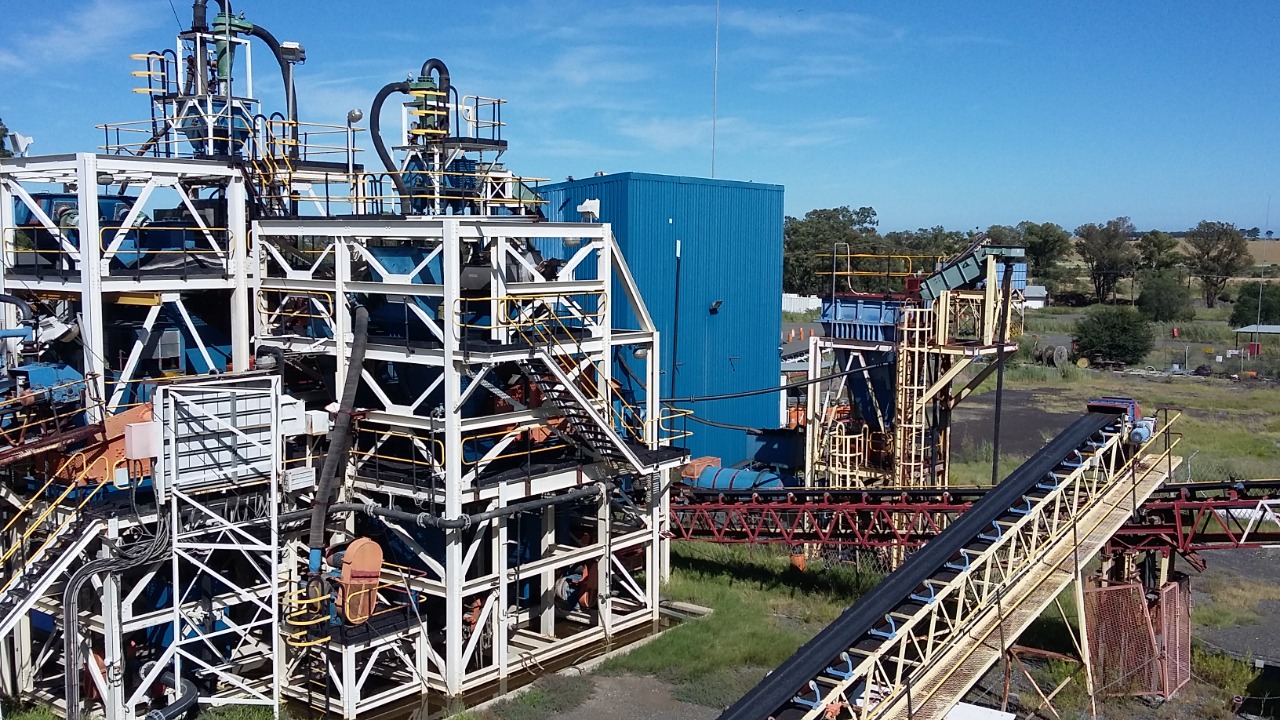 MINING AND PROCESSING
The independent engineering report from SRK Consulting suggested the development of a block cave at 470m depth, consisting of a slot drive, doming and production levels.
The construction of the Lace Mine tailings retreatment plant in 2006, which was completed and commissioned in late 2007. The plant was designed to treat 1.6 million tonnes per annum, at a 220 tph head feed. The plant utilizes a large double screening front end, 100 tph (coarse +6mm fraction) and 65 tph (fine -6+1mm fraction) DMS modules, a re-crush circuit and hands-free grease belt and glove box recovery units for diamond recovery."
The tailings retreatment plant was modified to be able to handle both kimberlite and tailings feed, at a combined 220 tonnes per hour with 2% DMS yield.